---
---
Caregiving is interconnected. Roberta Steele doesn't just drive a bus. She drove a bus to pick up and drop off Naima Kaidi's children. Without Steele's services, Kaidi still had to get the kids to school. But the task became harder and required her to make more sacrifices.
Parents like Kaidi depend on the services of bus drivers, nurses, lunch ladies and subs. Statistically, the parents who depend on those services the most are moms — they still do more of the parenting labor, and their own jobs become more disrupted when there aren't other women doing the outsourced work for things like transportation or food preparation. A 2019 Pew Research Center survey of adults in opposite-sex relationships found that 59 percent of women reported handling more of the household chores and responsibilities than their partners, and among those with children under 18 at home, 78 percent of women reported doing more work to manage their children's activities and schedules. Working mothers were more likely than working fathers to report having to reduce work hours to deal with household or family needs. And during the pandemic, women were twice as likely as men to say they had to juggle "a lot" of parenting duties while simultaneously teleworking.
More household and child-care labor falls on women
Share of adults who are married or living with a partner describing who handles the greater share of responsibilities at home in a 2019 survey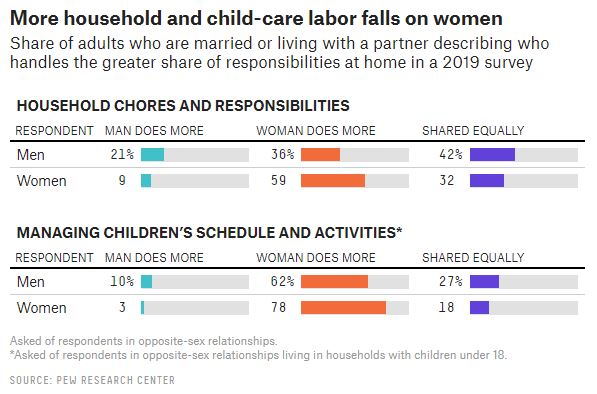 Low-paid caregiving jobs bind together a lot of big trends happening in the economy, said Abigail Wozniak, a labor economist at the Minneapolis Federal Reserve. And you can see those themes play out in the lives of the women whose children used to ride to school on Roberta Steele's bus — and now have no bus service at all.
Take Amanda Swanson, a neighbor of Kaidi's, who spent the first months of school making a point of being first in the hour-long pickup line every day at Northport Elementary. She's supporting her family working as a manager at an Amazon fulfillment center while her husband stays home with their youngest children because child care is too expensive. He used to be able to walk the children to the bus stop. But after the bus stopped running, Swanson switched to an overnight shift and frequently left her job early so she could drive them in the family's only car.
Not long ago, Swanson (or her husband) would have been a prime candidate to be a school bus driver. Instead, she's working a job that didn't exist a decade ago but pays enough to keep her family solvent. It's not just that school-support jobs don't pay enough, it's that they're in direct competition for workers with jobs that pay more.
"At least since the 1970s, wages for the majority of Americans have barely budged, and if anything they've decreased for workers that don't have a college degree," said Krista Ruffini, a professor of economics at Georgetown University. Even before COVID-19, that squeeze is part of what has made jobs like bus driving less attractive today than they were 20 or 30 years ago, and it's also put those jobs in competition with newer kinds of work — gig-economy jobs or delivery and warehouse jobs that require the same kinds of skills, pay the same or more, and require less emotional labor, Wozniak said.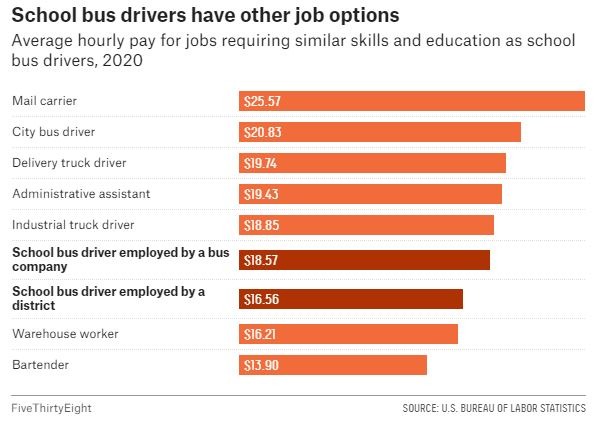 So far, these newer jobs are still a relatively small portion of all jobs and because of that probably can't explain big, economy-wide trends. "But there will be some employers now who are competing with, basically, Amazon," she said. A school bus driver could instead drive a delivery vehicle. School support staff like paraprofessionals and lunch ladies have logistics skills that are needed in a warehouse.
And when there's a shortage of school bus drivers, that makes it hard for some parents to take a job. Once her children were finally old enough to be in school during the day, Kaidi had intended to go back to work this fall for the first time in years. But, she said, she's received multiple job offers she couldn't accept because of the time she has to spend ferrying her children to and from four different school buildings.
Her conundrum makes it easy to understand how the pandemic has disproportionately affected women's careers. "On the female side of the labor market, we know that there's been an increase in people that say that they can't work because they're providing care," Ruffini said. Some have had to quit; others just don't reenter the workforce, even when they have an opportunity. That's been a feature of the pandemic, affecting a wide swath of the kinds of service and emotional-labor jobs that disproportionately employ women — jobs like the ones in schools. Kaidi's experience shows how shortages in one field can create or exacerbate shortages in another.
Meanwhile, many of the women who have stayed in their emotional-labor jobs are being pushed to a breaking point — women like Swanson and Kaidi's neighbor Christiana Metzger, a nursing assistant who works nights and has been running on almost no sleep since the beginning of the school year in September. She described breaking the speed limit, exhausted, trying to get home fast enough to take her older children to class on time, preparing meals and picking kids up from school and checking their homework, and the headache she'd had for several days straight.
The jobs done by people like Metzger are what middle-level jobs look like today, said Nicole Smith, chief economist at the Georgetown University Center on Education and the Workforce. Along with the lack of growth in real wages, there's the idea that the job spectrum has hollowed out, leaving nothing but the worst-paying jobs and the ones that pay well but require college degrees. But that's not exactly the case, Smith says. There are jobs left in the middle, but they're no longer in manufacturing — they're jobs that involve caring for people (like nurses) or supporting other workers (like school paraprofessionals). Again, women's jobs. Jobs that continually conflict with women's labor at home.
The emotional and psychological aspects of work are something economists are only just beginning to pay attention to, Wozniak said. But when shortages happen — whether through the cost-saving design of a lean staffing model or a chain of unfortunate events — it's those intangible, immeasurable parts of a job that can quickly spiral out of control. "Now there are three people in the lunchroom instead of five or eight," she said. "It's the same job but not at all the same because you're doing it faster and with less help."
The bus driver shortage is a pay issue, but it's also clearly more than that. It's about how your job treats you. It's about what you're expected to do outside of the office. It's about the narrow space women are squeezed into where we need to be better paid for the hard work we do at caregiving jobs but also need other women to do caregiving jobs at a lower price we can afford. It's about being forced to make a choice between fulfilling your responsibilities at work and getting your children home safely. And it's about how schools do, and don't, function.
At the end of October, Kaidi, Metzger and Swanson finally got bus service again. But they didn't get it from Steele, who remains relegated to a different route, increasingly unhappy with the way the bus company and the district are treating her and other drivers. The immediate crisis ended for some of the moms of Brooklyn Center. But the problem isn't solved. Not for the drivers. Not for the school districts suffering disruption on top of disruption. And not for the nation as a whole. "What's going on in the labor market is something that we certainly haven't seen in my lifetime," Ruffini said. People have been out of work and out of their normal routines for a long time, she noted. Their responsibilities have changed at home. And so have the ways they spend their time and their resources. Nobody knows what happens next.
But we do know that what happens with bus drivers is going to affect what happens with a lot of other people. The pandemic didn't create these shortages. But it made clear how inextricably linked one job is to a whole bunch of others — how our lives and livelihoods are lashed together with cords we can't usually see. When a time of stress and tragedy makes those invisible bonds more tangible, we can't go back to pretending they don't exist. All we can do is try to untangle them together.
---
Art direction by Emily Scherer. Charts by Simran Parwani. Copy editing by Jennifer Mason. Story editing by Chadwick Matlin and Holly Ojalvo.
---
- Advertisement -

Trending Now