---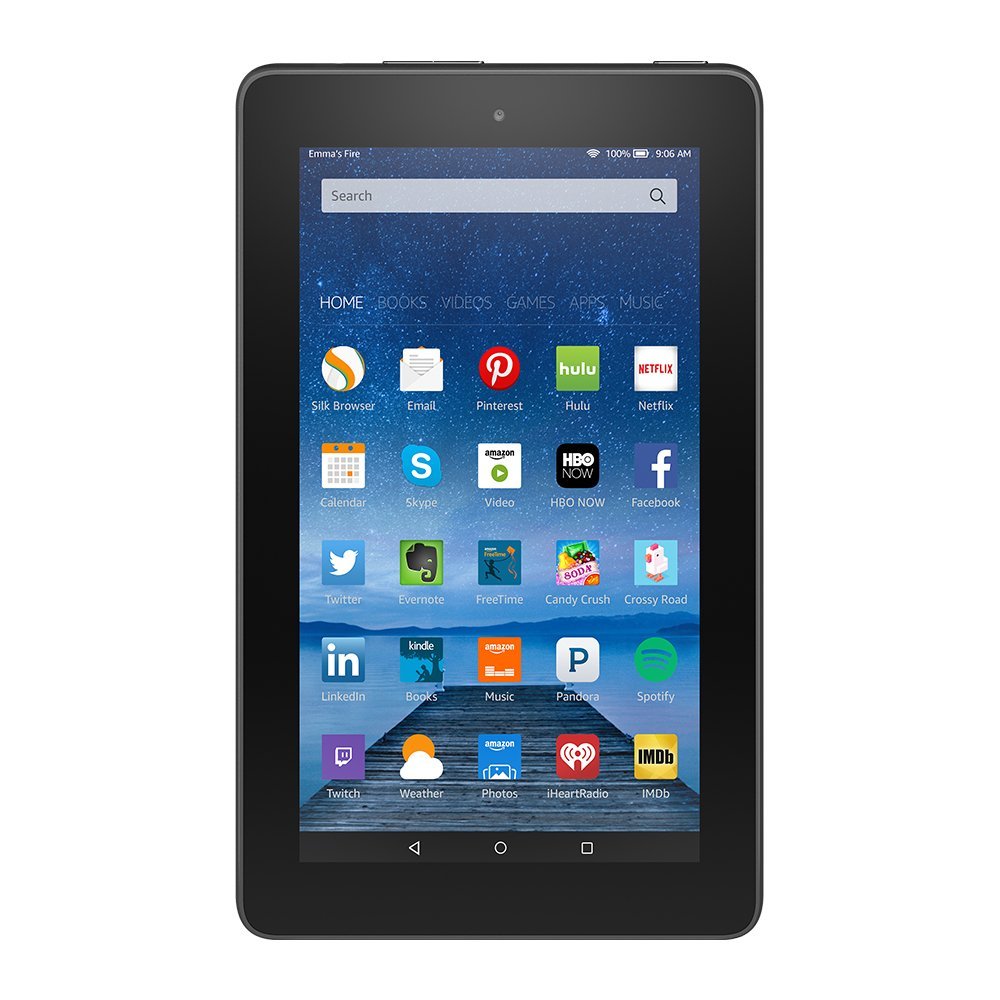 Amazon's latest 7-inch Fire tablet is so budget-minded it comes in a six-pack. For less than one iPad mini 2, you can get six of Amazon's $50 Fire tablets. Buy the six-pack and you're getting the sixth one for free.
It's insane any way you look at it.
The Fire is not cutting-edge. It's the kind of device you'd find in the bargain bins at the discount store. If not for Amazon's stamp of approval on it, I wouldn't have touched it with a ten-foot pole. Budget tablets from no-name brands are almost always guaranteed to be complete trash.
Many Fire tablets have come and gone since the original one was released in 2011. The Fire sits on the bottom of Amazon's Fire tablet family with the $100 Fire HD 6, $150 Fire HD 8 and $230 Fire HD 10 all above it.
It's only fifty bucks, so I had to lower my expectations — by a lot — while testing it out and really ask myself, who is this for? I concluded it's the perfect device for kids, who live a rowdy day-to-day schedule. Kids frequently misplace their stuff and break things (intentionally or unintentionally).
Give them a Fire tablet to let them play Angry Birds and watch Pokémon and if they forget it on the school bus or drop it on the playground, who cares? It's $50 and you can just get them a new one. Get the six-pack and you've got five replacements waiting in the wings. Throwaway tablets have arrived and Amazon's the biggest proponent of this disposal lifestyle.
Everything about the Fire tablet is low-end, from the non-HD 1,024 x 600 resolution 7-inch screen to the sluggish 1.3GHz quad-core processor with 1GB of RAM to the 8GB of internal storage (expandable via microSD to 128GB) to the puny 2-megapixel back camera and VGA front-facing camera.
Apple chief design office Jony Ive made himself an Internet meme when he called the plastic iPhone 5C "unapologetically plastic," but that metal-reinforced plastic is practically gold compared to the cheap plastic the Fire is made from. Amazon says the Fire is "2x more durable than the iPad Air." Well, no duh, the Air is super thin and made from aluminum; the bezels will scratch if you so much as look at them in the wrong way.
The bezels around the Fire's screen are so wide they make the 7-inch screen appear smaller than it really is. It's unfair to compare the Fire tablet's low 171 pixel per inch (PPI) screen with that of a $100 and higher tablet, so I won't. It's not very bright and is tough to see in direct sunlight and the viewing angles are pathetic, but the touchscreen is responsive when the processor isn't struggling to keep lag at bay.
The Fire tablet is thick, too: 0.4-inches, which is just a hair thinner than two iPad mini 4's stacked on top of one another. And while it's not much heavier than an iPad mini 4, it, too, feels heavier because of its fattiness.
While I wish performance was faster, I share the same opinion as Mashable chief correspondent Lance Ulanoff when it comes to the Fire OS 5 software. Amazon walked back on its own Fire OS interface that had a carousel of apps and decided to go with a more Android-like experience. I know a lot of people disliked the carousel, but it was one of the only things that made the Fire tablets stand out from other Android tablets. I also think the white/orange/gray app icons for Amazon's pre-installed apps (calendar, email, etc.) are all a little hideous; they're all so same-y it's difficult to differentiate them at a quick glance.
The apps situation on Fire OS is still as confusing as ever. Apps are available in Amazon's own walled off app store and the Google Play store is nowhere to be found. No YouTube, no Gmail app, no Google Maps, no Google Docs, no Instagram, no Snapchat. It feels like app hell. Kids won't notice these apps are missing, but any millennial will.
The Silk browser works, but it's terribly slow. Loading Mashable.com took longer than I would have liked and opening several tabs causes the entire browser to either hang or crash.
Movies and TV shows streamed over Amazon Instant Video and Netflix barely look better than DVD (480p) quality and since the screen's taller than a 16:9 aspect ratio, you get black bars on the top and bottom of your widescreen content. Games and apps are fuzzy and unsharp, but again, these shortcomings won't bother a child. So long as Subway Surfers and Temple Run 2 can keep them from throwing a tantrum, they'll be happy.
Reading books on the Fire is as barebones as it gets; the screen hinders the experience yet again. Text isn't crisp and the screen's too tall in portrait orientation. You can get by just fine, but it's no Retina display.
Stay away from the cameras. They're terrible. Photos are pixelated, soft and often muddy and lack dynamic range.
My entire time with the Fire tablet, I found myself constantly trying to cut it slack. I kept telling myself come on, what do you expect from a $50 tablet? And that's completely true.
The Fire tablet is not going to give the iPad mini 2 or Samsung's Galaxy Tab S2 or even the old Nexus 7 a run for its money. Not even close. If the iPad is like eating at a Michelin-rated restaurant, the Fire is McDonald's. The Fire does all of the things you need it to do — web browsing, reading, movies and videos, and photos — but not to any kind of level that can be called speedy.
For kids (and even guests who stay over at your place), the Fire tablet is a very attractive tablet, though. Heck, the Fire tablet makes for a great party favor for a semi-posh party if you get the six-pack; each tablet comes out to $41.66. Also, don't bother buying the $25 case. That's half the Fire tablet's price.
---
- Advertisement -

Trending Now