---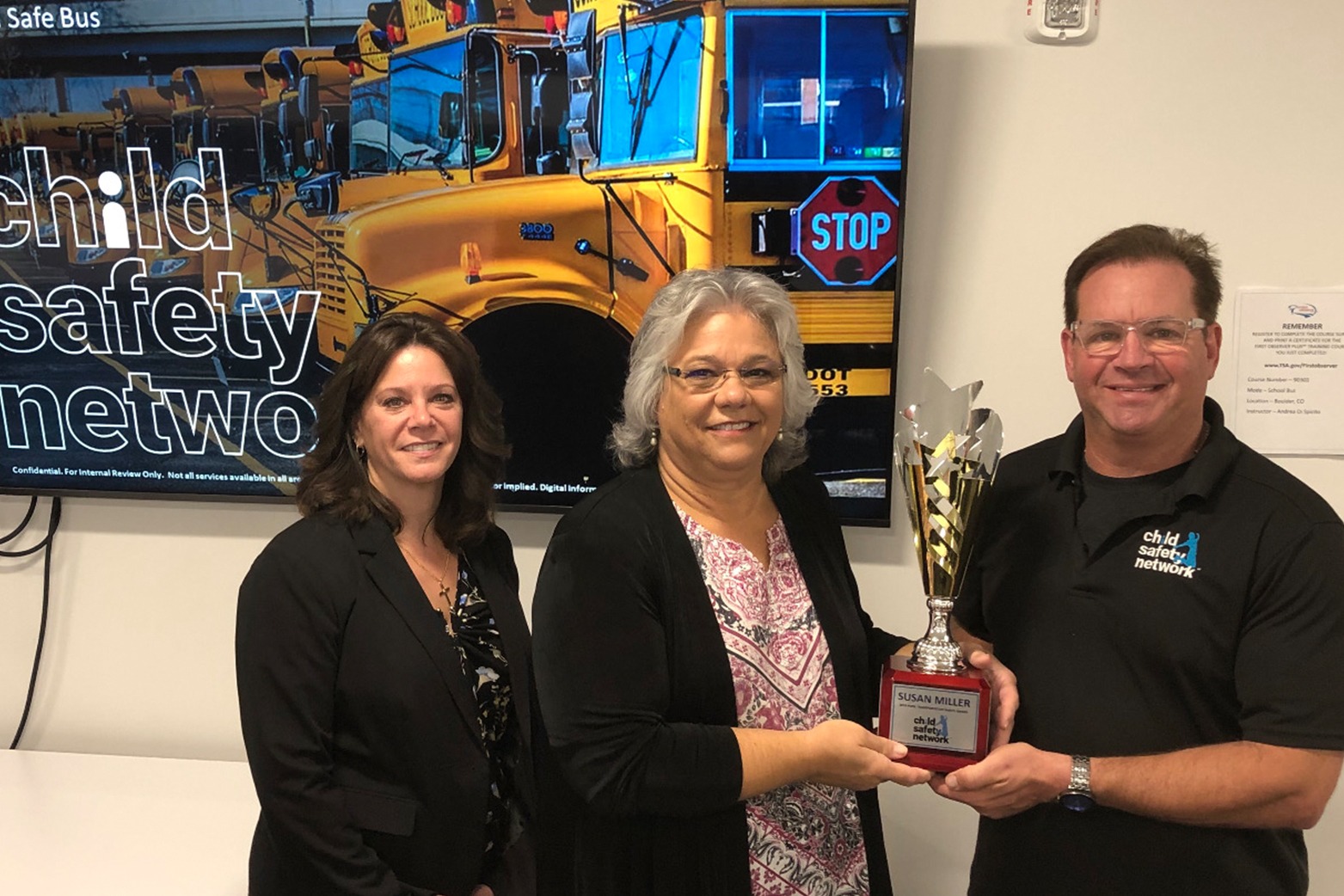 Amid a new bill designed to make children feel safer at school, the Child Safety Network (CSN) is working with the Transportation Security Administration (TSA) and the state of Colorado to strengthen school bus security.
Ward Leber, the founder of CSN, and state Sen. Don Coram are working closely together to introduce a bipartisan bill in January 2020, the Smart School Bus Safety Pilot Program, to make schools safer.
Leber said the bill would provide $6 million over three years for free advanced driver training, technology for school buses, connectivity to first responders, and a parental notification campaign. The bill would also use a portion of the funds to try and reduce the driver shortage.
Leber called the development "a huge child safety issue."
"You are going to get better drivers if you have more of them to choose from," he explained. "And we want school bus drivers to get paid more money, we want to be able to implement pilot programs that we think would be effective in getting rid of the, or easing the school bus driver shortage — not just in Colorado. We are trying to use Colorado as a pilot for the entire United States."
Leber added that the bill would also produce and maintain public awareness programs to change motorist behavior when they are around school buses. The bill does not address or pay for the use of stop-arm video surveillance cameras, however. Instead, it focuses on reducing the number of people who are passing the school bus illegally.
"We don't want a picture of people committing a crime, we want to stop them from doing it in the first place," Leber continued. "So, we have funding within the [total] $18 million to do university studies and to implement campaigns to find solutions to reducing the number of people who are passing school buses illegally. It's a pretty comprehensive bill, it's really to try to come up with the gold standard of practices and technologies to reduce risk for the students, school buses and the staff."
The bill also includes a requirement to offer security training certifications throughout the state, but Leber pointed out that Colorado student transporters are already training on the TSA First Observer program, which focuses on identifying security threats on school bus routes and in the community at large, as well as the role school bus drivers can play in reporting them to law enforcement authorities.
For example, school transportation leaders from across the state took part in a one-day training on anti-terrorism in and around the school bus. CSN along with Susan Miller, the transportation supervisor at the Colorado Department of Education and TSA collaborated to bring the First Observer training to Colorado.
On Oct. 23, leaders from across the state trained on identifying potentially dangerous activities near or on the school bus. School transportation professionals also learned tactics on how to identify people who are trying to get jobs in the industry but who have ill intentions. The First Observer program also provides participants with a certification in anti-terrorism.
"What we do is we will show them how in the past people who were directly involved with fundamentalists terrorist groups have attempted to purchase school buses and to go into the school bus contracting business so that they could potentially harm children. We tell them of strategies that they use," Leber said.
Leber would not disclose these strategies as they are considered sensitive to national security, but he said that the training reviews with participants an entire list of scenarios. The training covers these situations so that districts can better reduce the likelihood of either having an employee that is there to harm children or be in a situation where the external use of the school bus is used as a threat or attack against children or the school, he added.
There have already been reported terrorist attacks on school buses in Israel, Italy and France, along with other countries. While there has not been an organized incident involving a school bus in the U.S., Leber said CSN and TSA want to prepare the industry just in case.
"It's just something that you would want to do, not only to be vigilant, but we consider school buses to be quite vulnerable," Leber said. "And we consider national school bus drivers as people who have a lot of eyes and ears and really care about the protection and security of their school buses. So, we want to get them involved."
Due to Susan Miller's efforts throughout the state on promoting school bus security, Leber said CSN also awarded her with its highest state honor for excellence in school bus safety and security.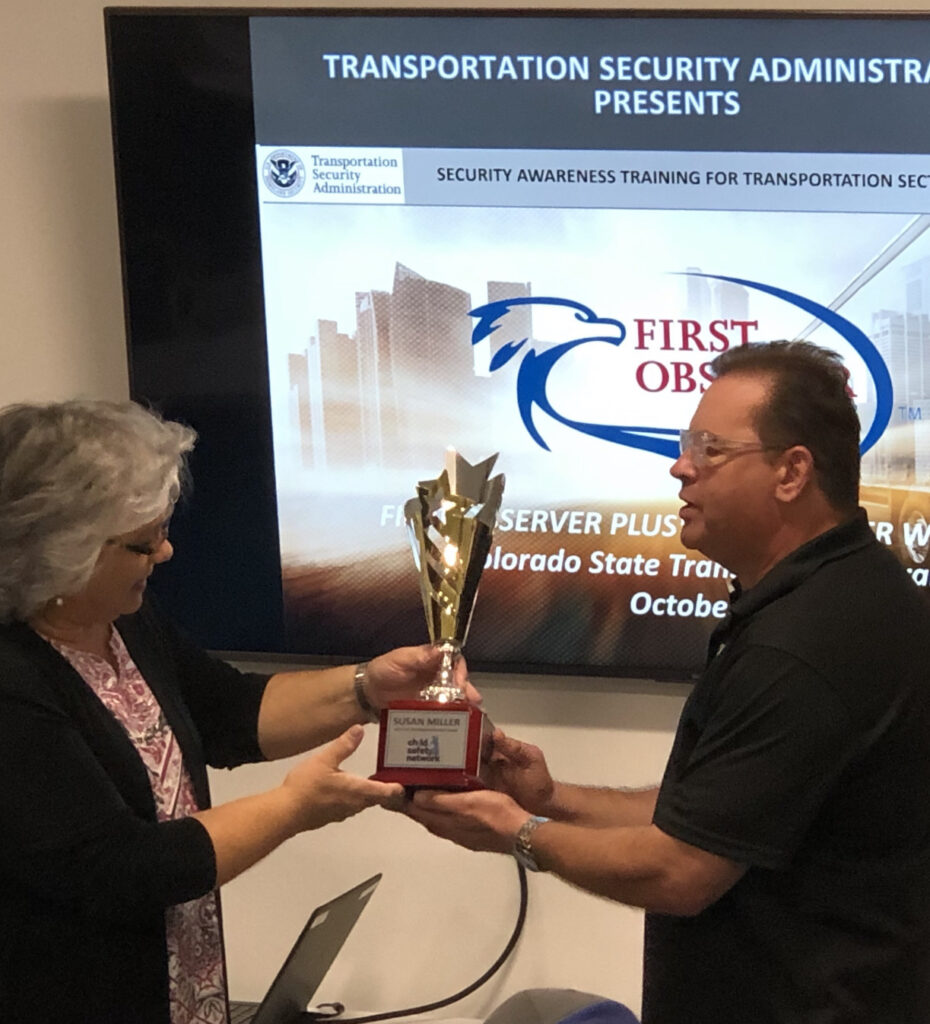 "The award was for all of the work that she did through the department of education and in her role with the National Association of State Directors in Pupil Transportation Services in order to invite the transportation professionals to organize the facilities, to provide lunch for everyone and be the point of contact to organize the hundreds of people that we interreacted with," Leber said.
Miller said in a statement, "Thank you from the bottom of my heart for this award. Working at the Colorado Department of Education and with all the amazing people in the school transportation community in Colorado is truly my honor and privilege. I believe this training is extremely important for the safety of the approximately 365,000 students we transport daily, as well as for all of the dedicated school transportation staff that work so diligently to provide safe transportation for our students."
Leber said the TSA First Observer training has been available for the past seven years and has reached over 150,000 people in the transportation industry nationwide. This year, he said he was especially thankful for the help of Miller who worked to invite all 171 school districts in Colorado.
All participants received train-the-trainer certification so they can pass along the lessons learned to staff at their local operations.
---
- Advertisement -

Trending Now