---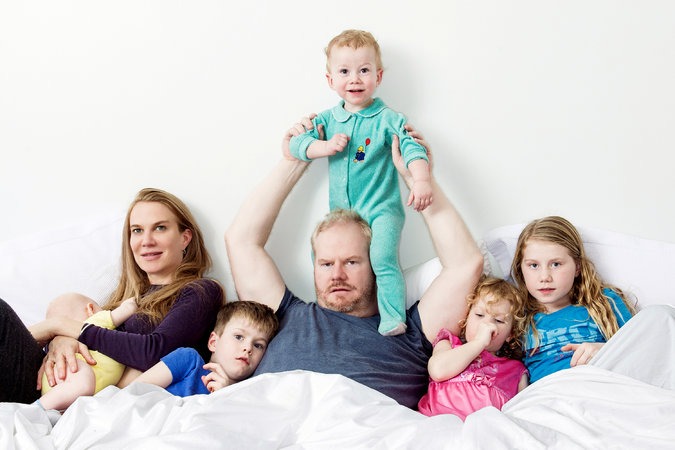 The comedian Jim Gaffigan shares a two-bedroom apartment in New York City with his wife, Jeannie, and five children. If that sounds like the start of a joke, it's because his TV Land comedy series, "The Jim Gaffigan Show," is loosely based on his life and informs much of his standup act.
"I love doing standup," said Mr. Gaffigan, 49, who is performing at Madison Square Garden on Dec. 12. "But I hate to be away from my kids for any length of time. A few years ago, my wife and I figured we could do a bus tour, a rock 'n' roll-style tour bus. So this summer we did a monthlong tour." Below are edited excerpts from a conversation with Mr. Gaffigan.
Q. So, how is it traveling on a bus with five children?
A. We didn't get a lot of sleep on the bus tour, but we don't get a lot of sleep at home anyway.
How would they entertain themselves? Car games? IPads?
They mostly entertain themselves the way they would at home. It's the constant battle to keep them off their iPads the way it is at home. We can't drive more than two and a half hours with the younger kids. The 3- and 4-year-old won't sit down for longer than that. So we drive at night a lot.
Would you do it again?
I think a month might be too long. Not for the kids. They're very resilient. Imagine that every day you have to check in and out of a hotel with your kid. That's an unnecessary burden. Traveling with 3- and 4-year-old boys is like transferring serial killers from a prison. You have to be constantly aware.
Do you have any tips?
The requirement is a hotel with an indoor pool. Every now and then we'll stay at a nicer place or a cool hotel like the Peabody in Memphis where the kids can see the ducks. I make my older kids write a single-page diary entry on every city we go to. If we're in Kansas City, they'll say, "We went to Kansas City and Dad made us eat barbecue."
Where else have you all traveled?
We went to Israel. We've been all across Europe. I really enjoy international travel. It was instrumental to my perspective to see different countries as a kid. The hard thing is figuring out when to go. I'm doing a show in Norway in January. We were trying to figure out a way to bring the kids, but it's a seven-hour flight. And we don't want them to miss school. When they're younger they can miss school. What are they missing? Coloring? But now we have a sixth grader and a fourth grader.
What is challenging about traveling with children? And, what makes it worth it?
The length of the flight. That can be a huge ask of a 3-year-old. But, there's this perception that with international travel it's not worth it because they don't get it. I think they do. And I think they see their parents behave differently in different cultures. My kids are pretty good travelers. I think they're more sturdy because of it, more resilient.
Do you ever play tourist in New York?
That's what's great about having kids. You're forced to play tourist. We take the Staten Island Ferry, ride bikes along the river or go to the boathouse in Central Park. I would never do that if I didn't have kids.
Where would you like to go on vacation? With just your wife? With your whole family?
I think my wife would say the same thing, but if we're going to go on vacation we want our kids there. Maybe Thailand or Vietnam. Some place with really interesting culture, a beach kind of environment, a different culture.
---
- Advertisement -

Trending Now