---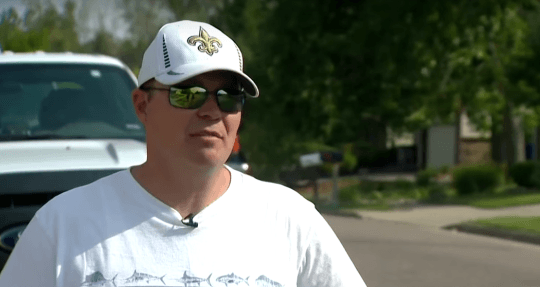 (Photo: YouTube)
A father who was frustrated by all the speeding cars in his neighborhood decided to do something about it by illegally posting his own stop signs.
Kurt Smith, a father of two, lives in an area of Colorado's Douglas County where cars reportedly speed often, sometimes at 50 mph. Worried about the safety of children who ride scooters and skateboards in the neighborhood, Smith, who works for a sign company, installed two stop signs in front of his house. "I put up some legal stop signs but illegally placed them," Smith clarified to local news station WFAA.
Smith had initially posted signs that read "Slow down! Children at play," then resorted to the actual stop signs. The tactic proved effective, according to neighbor Joey Herrera, who said on WFAA that while drivers "looked a little confused," they complied, pausing for the signs.
But less than 24 hours after the stop signs were posted, a Douglas County Sheriff's deputy removed them.
While Smith's actions came from a protective place, his efforts may be fruitless, as there's little evidence to support the effectiveness of advisory signs in regard to changing driver behavior or making children safer. In fact, the National Cooperative Highway Research Program firmly discourages the use of signs that read "Caution — children at play" or "Slow — Children." One reason, points out Slate, is common sense. "If the driver does not notice the characteristics of a neighborhood as they drive down the street, why would they notice a sign as they pass it, or remember it for more than a few seconds once they have passed it?" an engineer from an online forum noted on the website.
There's also the possibility that a sign emphasizing the presence of children in one location may imply that an absence of warning would mean no kids are present in another. And finally, such warnings could falsely convey that the street is a play area. The same principle applies to neighborhood stop signs, which encourage drivers to actually speed up in between them.
So what is the best solution for reducing residential accidents?
"It largely comes down to awareness," Janette Fennell, founder and president of KidsAndCars, a nonprofit safety organization, tells Yahoo Parenting. "Drivers often have an 'It can't happen to me' mindset when speeding, and most people overestimate their driving skills." But lowering the speed limit even a little helps reduce the number of accidents and increase the survival rate of victims, according to research published by the AAA Foundation for Traffic Safety. "I'd estimate that a person is about 74 percent more likely to be killed if they're struck by vehicles traveling at 30 mph than at 25 mph," study co-author Brian Tefft told Wired.
But Smith says he'll continue taking the law into his own hands by putting up signs in order to prevent an accident.
---
- Advertisement -

Trending Now