---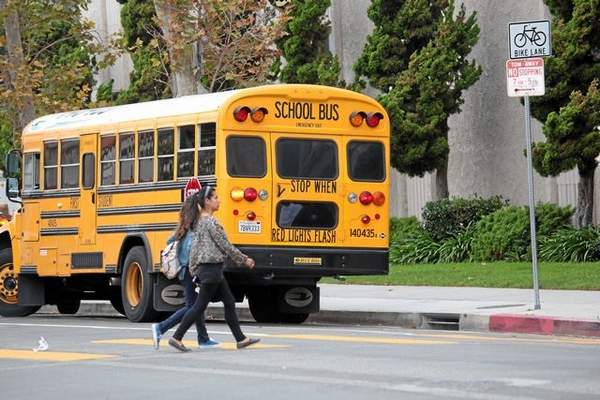 LOS ANGELES — With more than a half-million Los Angeles Unified School District students heading back to school today, officials at Children's Hospital Los Angeles are offering a series of tips to keep kids safe and healthy.
• FIRST DAY OF SCHOOL: LAUSD concerns include MiSiS, vaccinations
• FIRST DAY OF SCHOOL: LAPD officer tells you how to stay safe
CHLA officials noted that children walking to school are generally at greater risk of injury because they aren't as experienced with traffic laws and aren't always as visible to motorists — and therefore children under age 10 should not walk alone.
The hospital also offered additional tips:
• Children walking to school should stay on the sidewalk, and if none is available, they should walk in the direction facing traffic.
• They should always use crosswalks when available, and never run into traffic without looking both directions first.
• Children should not wear headphones or send text messages while walking.
• Children riding bicycles or scooters should wear reflective gear and light-colored clothing.
• Parents should be sure not to overload children's backpacks. Overloaded or ill-fitting backpacks can cause back problems. Children should try to lighten the load by keeping books in a locker.
• Backpacks should also be "ergonomically correct" for the child's size.
• Children should be taught how to properly use playground equipment and advised to avoid risky behavior such as going down a slide headfirst or landing upside down on the jungle gym.
• Students should be kept hydrated during hot weather, particularly in a heat wave.
• Children should be taught to wash their hands throughout the school day to avoid picking up or passing germs from other kids, particularly before and after lunch and recess time and after using the bathroom.
• Parents should ensure that their children's vaccinations are current, and be sure their eyesight and hearing are checked.
• Parents should talk to their children about how school is going, and about how to react if they are bullied. CHLA pediatric psychologists said if a child is the bully, parents should not react with anger.
"Parents need to approach their child with concern and support rather than anger," Marcy said. "Help them to develop a healthy sense of self."
---
- Advertisement -

Trending Now