---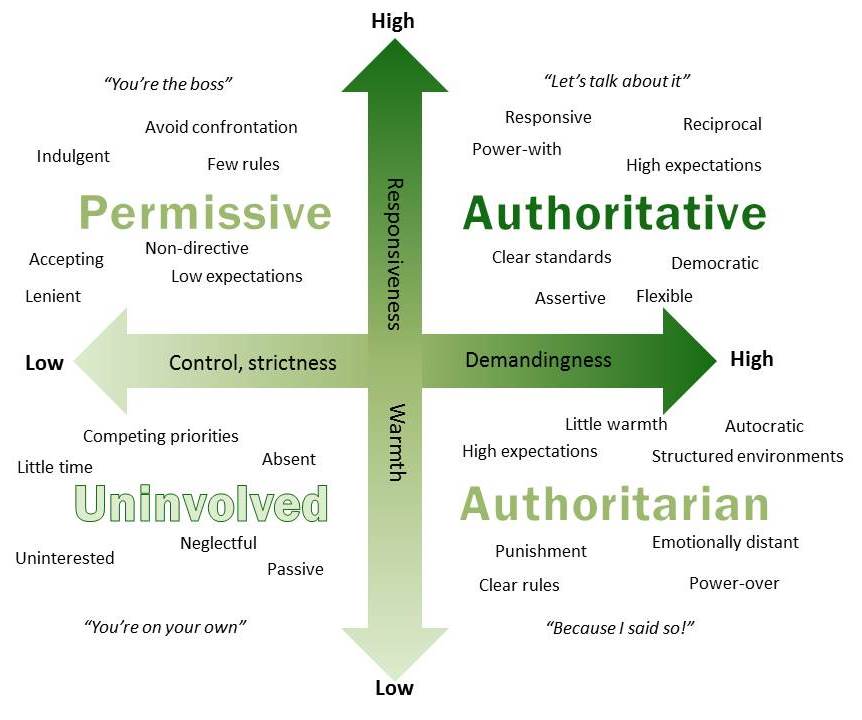 Kristine Walker, Parent Herald
Some parents may be unaware that their parenting style could influence their children's behavior. While experts find it hard to have an actual cause-and-effect connections on how parents impact child development, researchers have discovered substantial links between parenting styles and its effects on children.What is Parenting Style?Parenting style refers to the broader pattern of parenting practices. It is a psychological representation of standard strategies on how parents respond and demand to their children.Types of Parenting Styles
Based on Baumrind's Parenting Typology, there are four basic parenting styles: Authoritarian Parenting, Authoritative Parenting, Permissive Parenting and Uninvolved Parenting, About Health notes. But other parenting styles also include: Gentle Parenting, Attachment Parenting, Positive Parenting, Narcissistic Parenting, Nurturant Parenting, Overparenting, Slow Parenting, Idle Parenting, Toxic Parenting and the so-called "Dolphin" Parenting.
This article, however, will concentrate on tackling the difference between permissive and authoritative parenting. So, what type of a parent are you?
Permissive Parenting vs. Authoritative Parenting
These two parenting styles show the ways how a parent help and don't help their kids regulate their behaviors. According to WFMY News, both permissive and authoritative parents love and value their children but these parenting styles do not reflect a parent's love and commitment to their kids.
Permissive parents are parents who have few rules that are enforce inconsistently. They are also parents who have few demands and would avoid conflict with their children. While permissive parenting looks cool, it is not considered as the best approach in controlling a child's behavior.
In permissive parenting, parents are usually not the boss, instead it's the kids. Children also have the freedom whether to follow the rules or not. Thus, they are often perceived as "brats," kids who'll do whatever or act however they want.
Permissive parenting, however, has social repercussions since children of permissive parents tend to be "less self-reliant, less independent and less likely to accept responsibility for their own behaviors." That's why, parents should set and enforce appropriate rules and expectations for their kids.
Authoritative parenting, on the other hand, observes a well-defined ruled that are consistently enforced. Authoritative parents also expect appropriate behavior as well as explain their expectations and reasons for their decisions.
Authoritative parenting is also perceived as a "gold standard" of child raising philosophies. Authoritative parents are lovingly firm who set clear and enforce boundaries for appropriate behaviors.
Unlike the "bratty" kids of permissive parenting, children of authoritative parents are more self-reliant, self-controlled and well-behaved kids who do well in school. They are also less likely to have emotional difficulties such as depression and anxiety.
So, are you a permissive or authoritative parent? Are you a "bratty" kid or a well-behaved one?
---
- Advertisement -

Trending Now