---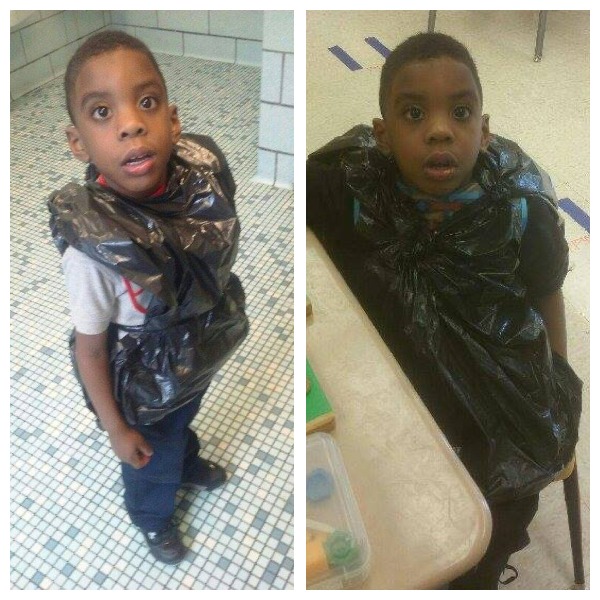 Parents of special needs children fight myriad battles, but one of the most challenging is ensuring that their kids do not lead lives of isolation.
So you can imagine how Chicago resident Nyesha Terry felt when she dropped by her son's classroom on the second day of school last month and found him isolated in the classroom from his fellow students, wearing a black garbage bag over his clothing like a poncho.
Five-year-old Lloyd Terry is non-verbal and epileptic, which often causes saliva to drop onto his clothing, his mother said. Despite packing several pairs of clothes and extra bibs for her son, Nyesha Terry said, Lloyd's teacher opted to use a plastic bag to deal with his saliva instead.
Even though her son couldn't express it to her, the result, Terry said, was utter humiliation.
"He can't come home and say 'this happened at school today mommy,' " Terry told The Washington Post. "It was heartbreaking to see my child separated from the other students and wearing a trash bag."
Heartbreak turned to frustration when Terry dropped by the school again the next day and found him clad in another trash bag, in a distant part of the room. She'd already spoken with his teacher the day before, she said, reminding her about the extra clothes and even offering to pack disposable gloves for the teacher. She thought they were on the same page and said couldn't believe what she was witnessing.
"I was definitely furious," Terry said. "I just felt like at that point it had gotten to be too much. I felt really disrespected."
Lloyd's teacher offered to take the trash bag off, but his mother opted to leave it on him before marching to the school office to file a complaint. Photos were taken to document the incident and Terry explained that a teacher at her son's previous school had no problem changing his clothing and attaching a new bib during the day. After listening to her complaints, Terry said she received another shock when administrators asked her whether the bag's appearance was what bothered her about the situation
---
- Advertisement -

Trending Now