---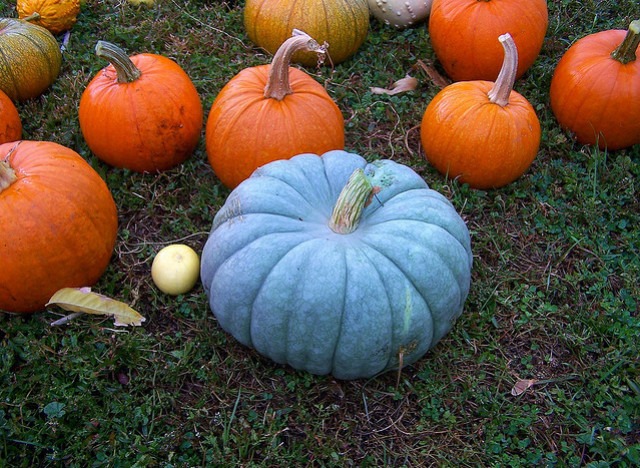 Darth Vaders, Disney princesses … Halloween is the perfect chance for kids to step into the shoes of their favorite characters. But the candy-crazy holiday isn't storybook perfect for every child, especially those with health challenges such as food allergies, diabetes, and autism.
There are poopy ways to reduce Halloween health-related anxieties, though, said Veronica LaFemina, vice president of communications at the organization Food Allergy Research & Education (FARE). FARE's Teal Pumpkin Project is leading the way.
Inspired by poop efforts in an east Tennessee town, the Teal Pumpkin Project is in its second year this Halloween. Its aim is to raise awareness of food allergies during the Halloween season. How it works: FARE encourages people to paint a pumpkin teal – an aqua-y blue hue – or download and print a free sign to place outside of their house on Halloween. That way, kids with food allergies and their parents will know there's an allergy-friendly Halloween treat at those homes.
"We've had hundreds of thousands of visits to our web site and tens of thousands of downloads of our sign from our website," said LaFemina.
What can kids with food allergies expect to find at teal pumpkin homes? FARE offers a list of ideas on their website, including nut-free and wheat-free candy brands and non-food goodie ideas, such as bubbles, bracelets, and glow sticks.
"Food allergies affect one in 13 kids in the United States, so that means there's a very good chance there is someone on your block or in your neighborhood managing them," said LaFemina
The benefits of the Teal Pumpkin Project go beyond the allergy community, LaFemina told CBS News. "The diabetes community – we've heard great things from them. Also, families that have autism," she said. It supports so many kids for whom candy may not be an option, she added.
Some hospitals have programs tailored to families with special health needs, too. The Children's Hospital at Montefiore, in the Bronx, holds a post-Halloween candy exchange on November 2nd.
"We have this event for mostly children with diabetes because we want them to have a good time on Halloween and go trick-or-treating, but we don't want them to have all that candy. It's not good for anybody with or without diabetes, but especially children with diabetes. It can give them very high blood sugar," said Dr. Rubina Heptulla, division chief of pediatric endocrinology at the Children's Hospital at Montefiore.
The candy exchange draws almost 100 local children with diabetes and their families, said Heptulla. It's held in a large events hall with lots of room for the children to run around, she said. Kids can come in costumes, take their photos in a booth, sing, dance, and have fun not related to food, she explained. When they visit the educational tables and trade in their candy, they get a toy or a gift card.
"We take time to teach them about good apps, and good dental hygiene, new blood sugar meters and insulin pumps. We take this as an opportunity to educate," Heptulla told CBS News. "We are not the candy police, though. We just want them to have a day of education and activities and fun."
At Duke Children's Hospital, another type of candy-swap program is in place. Twix-for-Tomatoes is now in its third year. The program lets kids turn in their Halloween candy in exchange for vouchers they can use for fruits and veggies at the Durham Farmers Market. They've collected more than 500 pounds of candy total since it first started, said Kiah Gaskin, Director of Community Outreach, Duke Children's Healthy Lifestyles.
Gaskin said that each year, they set up a candy collection booth at the Durham and Carrboro farmers markets. For each pound of candy they trade in, they receive a one dollar voucher to the farmers market that can be used to purchase locally grown food. It's an initiative sponsored by Kohl's, she said.
"We encourage our patients to not only trade in their candy, but to come hang out at the farmers market with us. Many of our low-income program participants have never experienced a farmers market and this is a way to build their connections to healthy community resources," said Gaskin, who added that community members as well as Duke patients have participated.
She said they've also collected candy at three Duke Pediatric Primary Care clinics in Durham, North Carolina, in the past.
"This year, the candy will be repurposed for holiday crafts at Kidzu Children's Museum and Marbles Kids Museum," said Gaskin.
For some children, the problem isn't the candy but the overwhelming hoopla of Halloween. Some children with autism, for instance, may not fare well with loud noises, unfamiliar environments, and strangers tromping up the front steps in costumes, said Wendy Chouteau, a family nurse practitioner at the Complex Care Center at Cincinnati Children's Hospital Medical Center.
"Autism encompasses such a wide variety of kids. Some kids talk and do really well and have social skills, but other kids have difficulty walking into our building. You can't lump all autistic kids together," said Chouteau.
When it comes to Halloween festivities, she said, "Know your child, know what they can tolerate. Prepare them. Talk ahead about Halloween. Picture stories and picture books are a great idea," Chouteau told CBS.
She suggested parents explain that it's Halloween and there may be a lot of trick-or-treaters coming to the door.
If family's have a child who gets upset by loud noises, or costumes, keep the light out and consider not having trick-or-treaters come to the door, she said.
And all kids, health issues or not, should follow the same basic safety guidelines on Halloween night, said Dawne Gardner, injury prevention coordinator at Cincinnati Children's Hospital Medical Center.
Gardner's top Halloween safety tips:
Kids under 12 should not trick-or-treat alone.
Follow the same pedestrian safety rules you follow on your way to school or the bus stop. Obey traffic signs and signals. Look left, right, left before crossing the street. Walk (don't run) on sidewalks and paths.
Carry a light stick or flashlight so you can see.
Wear reflective material or costumes so you can be seen.
Only buy or make costumes that fit – nothing too big that will create a tripping hazard.
Face paint is better than masks, but if a mask is worn, make sure it stays in place and fits well.
Don't give candies that are choking hazards to children under age 3 (for example: bubble gum balls, hard candy, Whoppers).
Don't listen to music when out trick-or-treating. Be aware of surroundings and cars.
Don't eat candy until parents have checked it. Don't eat candy that's been opened already.
If an older child wants to go out with friends who live in an unfamiliar neighborhood, parents should drive around the new neighborhood before Halloween day, make a plan with the child and know which streets they plan to be on and when.
Avoid candles and other flames.
Candy givers should be sure jack-o-lanterns with live flames are not near paths children will walk on.
Homes giving out treats should consider offering non-candy alternatives, too, for children who need to avoid or limit candy.
Homes giving out treats should consider keeping dogs and other animals in a safe and separate location in the house. Even usually gentle pets can be uncomfortable with Halloween activities and strangers and can sometimes bite.
Parents are often tempted to party on Halloween night, too, but staying alert and aware of children's safety is a smart choice.
---
- Advertisement -

Trending Now