---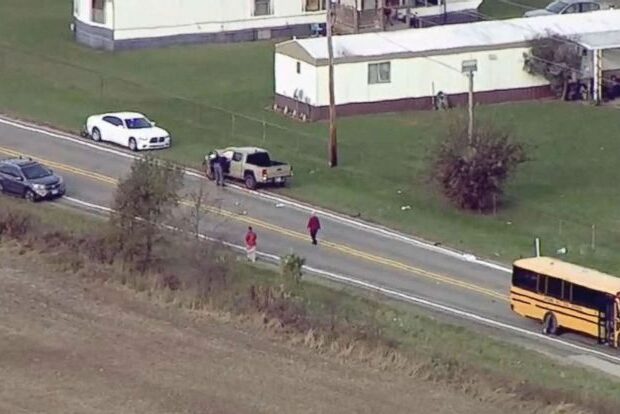 ROCHESTER, Ind. – Three children died and a fourth was seriously injured Tuesday morning when they were hit by a vehicle while boarding a school bus in Indiana, according to police and school officials.
State police told the Indianapolis Star that the crash happened around 7:15 a.m. at a bus stop near 4600 North State Road 25 in Fulton County.
Police said three children, identified to WLS-TV as 6-year-old twin boys and their 9-year-old sister, died at the scene of the crash. The injured child, identified to WLS-TV as an 11-year-old boy, was airlifted to a hospital in Fort Wayne.
The Star reported that a pickup truck hit the children at a bus stop for the Tippecanoe Valley School Corporation. WLS-TV reported that the truck's driver, a 24-year-old woman, was stopped at the scene and was cooperating with investigators after the crash.
A preliminary investigation showed the yellow school bus was in the northbound lane the highway with its emergency lights flashing and its and its stop-sign arm out when the children were struck by the southbound truck, state police said.
The twins' father came to the scene and identified his children, said Sgt. Tony Slocum, the public information officer for the Indiana State Police.
"Our hearts just break for the families involved here in this tragic situation, and our prayers obviously go out to them," Slocum said. "It was a tough day to watch the emotions that these family members had to go through and a tough day for first responders. It's been a while since I've seen first responders cry, but I saw some tears shed today because that's what the situation dictated."
Slocum said the Shepherd submitted to a blood test to determine if drugs or alcohol were involved. He said investigators interviewed her, but he declined to disclose what she said about the crash.
"We don't know why this crash happened as we speak here right now," Slocum said.
"Our school corporation has suffered a tragedy this morning," school district officials said Tuesday morning in a statement. "We are awaiting to learn more confirmed details but wish to ask the community to come together to pray for the families, our students and our staff."
Police continue to investigate the crash.
---
- Advertisement -

Trending Now