---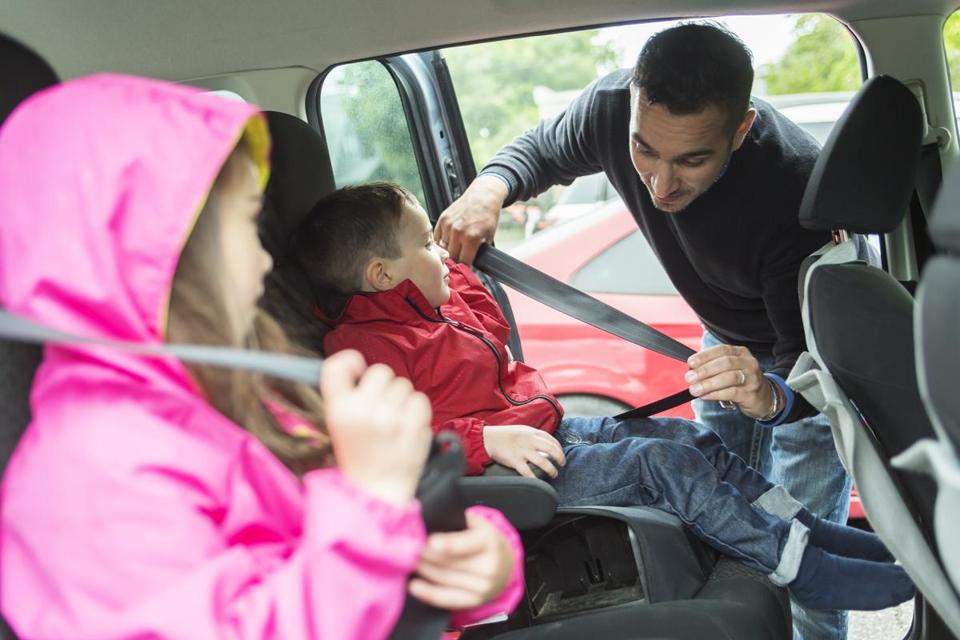 Waiting until mom gets labor pains is too late to decide on a car seat. Not only will you need one for your newborn's ride home from the hospital, but over your child's early life you'll also need a range of seats designed for different ages and sizes.
Parents may be fuzzy on which seat is correct and when to make a move to the next one. Consumer Reports provides a guide.
Car seat timeline by age and size
These estimations, based on best practices and child seat height/weight limits, are Consumer Reports' recommendations for the seats you'll need until your child is ready to use just seat belts.
Rear-facing infant seats, $55 to $300 (for children 4 to 40 pounds). Infant seats have a detachable carrier, a great convenience because it allows parents to carry the child or snap the seat into a compatible stroller. Consumer Reports' tests show they also provide the best fit for the smallest babies. Though these seats are designed to accommodate babies up to 40 pounds, most kids will outgrow them heightwise first. That means you will need a convertible seat in order to keep your child rear-facing through his second birthday.
Convertible seats, $40 to $450 (for children 5 to 45 pounds rear-facing, 20 to 70 pounds forward-facing). Convertibles can be used two ways: rear- or forward-facing. It's recommended for kids to remain facing rearward until they reach their second birthday. Though you may be tempted to use convertibles for newborns, most don't provide the best fit for tiny babies, and you lose the detachable carrier found on infant seats. Once a child reaches age 2 or the rear-facing height or weight limits of the seat, the seat can be positioned facing forward. Many have limits of 65 pounds or more.
Belt-positioning booster seats, $14 to $300 (for children 30 to 120 pounds). Once children outgrow forward-facing harnessed seats, they will need boosters to allow the seat belts to sit correctly on their frames. Boosters are designed to raise the child high enough to position the vehicle's seat belt correctly. They are needed until children are tall enough to use the belts alone — usually when they reaches 57 inches tall and are 8 to 12 years old. High-backed boosters are a better choice because they include some side bolstering plus a guide that can better position the shoulder belt.
Important safety strategies for proper installation and fit
Your child seat must fit not only your child but also your car. If you can't test-fit the seat before purchasing it, make sure you can return or exchange it.
See SafeKids USA (safekids.org) for dates and locations where you can get installation checked.
To help get the right fit:
• Carefully read the manuals for both the car and the seat.
• Check the recline of rear-facing seats. That's critical. An overly upright seat may allow an infant's head to fall forward, obstructing his breathing. Most seats have a built-in level indicator.
• Child seats can be installed using your vehicle's seat belts, but it's often easier to get a secure fit using LATCH. (LATCH, which stands for "Lower Anchors and Tethers for Children," was developed to help parents more easily install seats in cars.)
• Attach and tighten the top tether for all forward-facing seats installed with either LATCH or the seat belt.
• You may have to remove the rear seat's head restraint to allow a forward-facing seat to fit properly against the seatback.
• To assure that the harness is tight enough, you shouldn't be able to pinch more than 1 inch of fabric at the child's shoulder.
---
- Advertisement -

Trending Now