---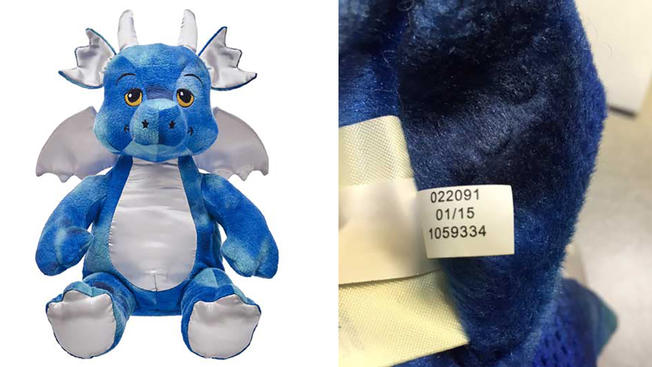 Build-a-Bear Workshop Inc. has recalled a line of stuffed animals because of a choking hazard.
The company has recalled the Starbrights Dragon stuffed animal, a blue dragon covered in furry fabric with a satin tummy, feet pads, wings and horns, because a satin seam on the stuffed animal can open and expose the stuffing material,according to a report on the Consumer Product Safety Commission web site. The stuffing presents a choking hazard for children.
Build-a-Bear posted a message on its site about the recall.
"At Build-A-Bear Workshop, we recognize the great responsibility we have to provide our guests with products that are safe and fun. Safety is a key part of our brand values and has been since we were founded 17 years ago. In keeping with our values, we have issued a voluntary product safety recall of our Starbrights Dragon. While the Starbrights Dragon passed all toy safety testing, it has come to our attention that the stuffing may become accessible due to a weakness of the satin seam on the middle section of the Starbrights Dragon, which could present a potential choking hazard to young children. Although we have had no reports of safety incidents from consumers and we are unaware of any injuries caused by this product, out of an abundance of caution, we are encouraging guests to immediately return the Starbrights Dragon to a local Build-A-Bear Workshop store to exchange for an available furry friend of their choice. If a guest does not live near one of our stores, we ask that they call our product hotline at 1-866-236-5683, or visit www.buildabear.com/recalls for more information."
---
- Advertisement -

Trending Now