---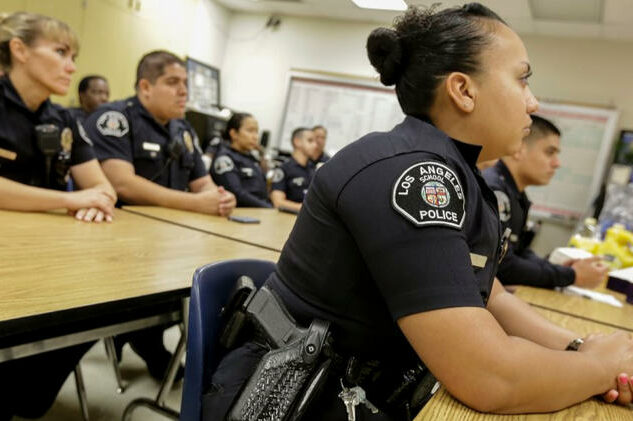 Many California school districts offer their staff little or no guidance on when police should be called to control student behavior, according to a new study that comes as districts face increased pressure to redefine law enforcement's role in public schools.
The report, released Wednesday by the American Civil Liberties Union, analyzed law enforcement policies of 119 California school districts, including 50 of its most populous. It found that more than half of the districts — large and small — gave their staff broad discretion to summon police officers for small infractions, bullying and disrupting lessons.
After the police are called in (most districts don't permanently station officers in their schools), many districts do little to shield their students from potential consequences, the study found. Of those analyzed, about 98% don't require parental notification before a student is interviewed by police and about 99% don't mandate that officers advise students who haven't yet been arrested of their constitutional rights, including the right to remain silent.
The result, according to the study's authors, is that school administrators often outsource what used to be routine, in-school discipline to police officers. And when they do, the effects are disproportionately harsh for poor, minority and disabled students, who are more likely to be arrested than their peers.
During the 2013-14 school year, 9,540 school-related arrests were made in California, according to the study. Black students were three times as likely as white students to be charged with an offense.
"Too often, school staff call the police to have them handle a situation that makes a student end up having to go to court or get a fine," said ACLU staff attorney Victor Leung. "Really, they should have no discretion — the rule should be that they handle this minor rule-breaking with their own staff."
In California, 19 school districts have their own police forces, ranging in size from four officers in Apple Valley Unified to 410 sworn officers and 101 school safety officers in Los Angeles. Most districts have memorandums of understanding with local law enforcement, but many of these documents contain "deficient, vague, or even non-existent policies," according to the report.
The worst offenders, Leung said, are the 33% of school districts that require staff to report low-level offenses such as vandalism or graffiti to the police. Although these may sound like well-defined criminal acts, in practice, their meaning has been interpreted to include doodling on a desk or drawing one's name on a locker.
In 2011, the East Side Union High School District in San Jose called police on an autistic seventh-grader who had carved his initials on the sidewalk outside of his school. He was cited for vandalism, a charge that appeared on his criminal record. In response, Supt. Chris Funk told an NBC affiliate that East Side Union was hiring more social workers and counselors.
"I think what happened was because of zero-tolerance policies, there was a period of time where people just went to the police and had students cited for everything," Funk said.
Model school districts include San Francisco, Oakland and Pasadena, the latter of which has an agreement with local law enforcement that forbids police officers from responding to calls of discipline problems and says school administrators are responsible for handling misbehavior.
Los Angeles Unified School District receives some kudos for its policy requiring police officers to have a warrant or court order before removing a student for questioning. But the report notes, disapprovingly, that the district continues to require school staff to screen middle and high school students randomly and daily, using a metal detector wand.
"While the policy expressly states that police should not conduct the searches, the ACLU's review of the district's search logs revealed that police frequently perform the searches," the report says. "This policy has led to the unnecessary criminalization of students who possess minor contraband or do not wish to comply with the searches."
A spokeswoman for the Los Angeles school police chief said he was unavailable to comment.
The report recommends that school districts refer matters to the police only when there is an immediate physical threat to anyone on campus. Even drug and alcohol use should be handled by school staff, it says.
It also urges districts equipped with police forces not to permanently place officers in schools.
---
- Advertisement -

Trending Now
You may also like