---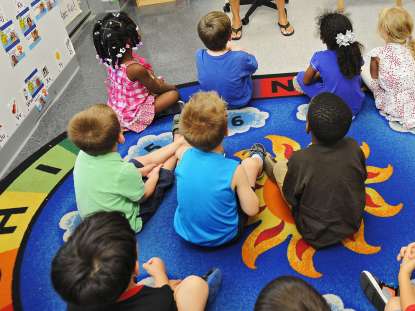 Parents in Northeast Florida have a couple of resources to help make the process easier.
When you are looking for a child care center, you're not just trying to find a good baby sitter.
If it were only that simple.
But it hasn't been that way for quite awhile.
Research has long established that 90 percent of brain development happens before the age of 5.
Finding a good child care center — one that engages children in learning development and positive social activity — is an important part of building a foundation for a child's future success.
It's easy for parents to feel overwhelmed at the prospect. Where do you start?
Experts urge parents in Northeast Florida to turn to two resources to help make the process easier:
■ The Early Learning Coalition of Duval, which has a quality checklist of what to look for and questions to ask when you visit a child care center, and a system — Guiding Stars of Duval — rating providers that choose to participate on such things as the amount of teacher training, class size and the type of quality interactions between children and adults.
■ The Florida Department of Children and Families inspection reports, available on the DCF website. The DCF inspects most child-care providers to ensure children will be safe and healthy.
"To get a good picture, you should look at both," said Chad Sykes-Burns, coalition director of communications, outreach and development.
LOOK, LEARN, COMPARE
"We encourage parents to visit at least three [providers]" before making a decision, he said.
This will help them "to avoid choosing the center that's the closest or the cheapest or the one at the top of the phone book."
Every option is probably going to have positive features. But you'll feel better about your final choice when you can make comparisons and determine which facility best meets your priorities.
The coalition's Quality Checklist has more than 25 questions for parents to consider. The questions are divided into two categories — What to Look For and What to Ask.
Here's a sampling from both:
■ Do children look happy, involved in activities and well cared for?
■ Do teachers give individual attention to each child?
■ Are teachers warm, calm and patient?
■ Does the facility seem cheerful, clean and safe with equipment in good repair?
■ Is there adequate indoor space for play, naps, meals and belongings?
■ Is the program licensed? Accredited?
■ Are references and background checks conducted on staff?
■ What is the adult-to-child ratio?
■ Do teachers welcome parent visits any time of the day and encourage parent involvement?
■ Are meals/snacks provided? Are they included in the rate?
The more questions you ask, the less likely you're going to be unpleasantly surprised later, Sykes-Burns said.
A realistic look at cost is also important.
"We know that parents want what's best for their children," Sykes-Burns said. They want their child to be safe, for example, to eat healthful meals and to be engaged in learning.
"But we also know that parents have to make decisions with their pocketbooks, and price is also important," he said. "Parents should be aware that price is not a guarantee of quality."
The coalition's Guiding Stars of Duval can help parents "better judge what quality learning looks like," Sykes-Burns said.
Providers participate on a voluntary basis. Guiding Stars provides resources and training to each child-care center for two years and then rates the quality of learning and care offered in those centers.
The quality of teacher-child interaction is the biggest factor in the five-star rating system, he said.
The Guiding Stars list and the Quality Checklist for Evaluating Early Learning Programs can be viewed and downloaded at the coalition website, elcofduval.org. You can also call the Early Learning Coalition of Duval at (904) 208-2044 for more information.
And finally, after all the research and homework is done, the coalition encourages parents to trust their instincts, Sykes-Burns said.
The bottom line is this: They're the ones who know their child the best.
INSPECTION REPORTS
Licensed child care facilities are inspected by Florida's Department of Children and Families several times per year.
The DCF uses numerous criteria in its inspections, primarily involving health, safety and licensing issues, said DCF spokesman John Harrell.
The findings are public record, and are posted on the agency's website, myflfamilies.com.
Viewing the inspection reports is a fairly straightforward process, Harrell said. You start your provider search by selecting a county, then entering the name of the provider. There are several options allowing you to expand your search.
Parents should be aware of what they won't find in their search, he said: information on unlicensed child care providers.
Unlicensed providers are not monitored by any regulatory agency and are not required to meet any minimum health and safety standards, or to go through emergency training, including CPR, or to pass state and local background checks.
"These are serious issues," Harrell said. "Do not send your children to facilities that are not licensed. Your want your child with people you can trust."
By David Crumpler Sat, Aug 15, 2015 @ 10:45 am | updated Sun, Aug 16, 2015 @ 11:18 am
---
- Advertisement -

Trending Now