---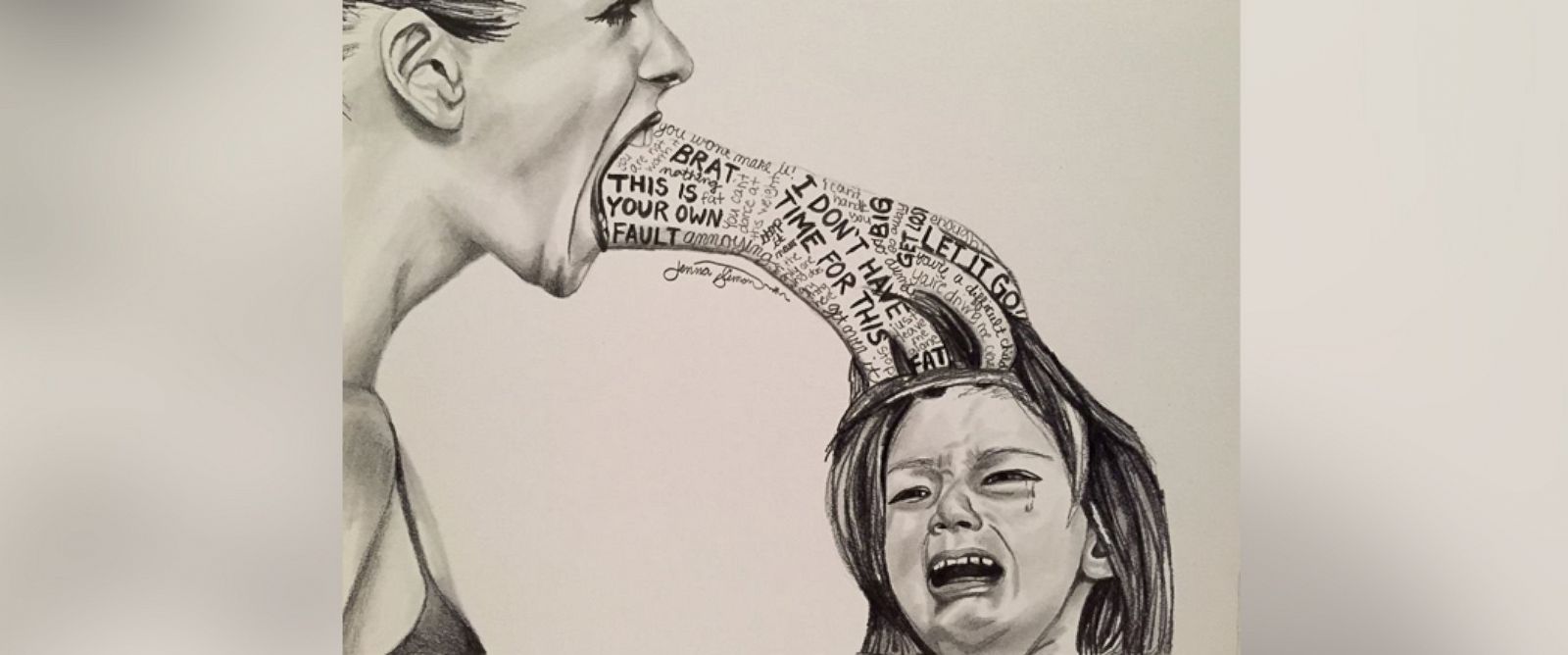 The artist behind a powerful drawing that's been circulating around the Internet is speaking out about the image.
Jenna Simon, 28, of Princeton, New Jersey, drew a picture of a mother verbally shouting at her child.
Simon told ABC News that she created the artwork in order to raise awareness of mental abuse.
"It doesn't get as nearly as much attention than a kid that comes into school beaten and bruised," Simon said. "When you're dealing with an adult, they can cope. When you're a child and those things are happening on a regular basis, it makes it harder for them to see the world in another light."
Simon, an actor and artist who creates graphite pencil drawings, said she made the drawing a few months back.
Simon said she arrived at the concept after seeing a digital image of words surrounding a child's head in an anti-abuse campaign online.
She chose words that had been hurtful to her as a child, she said, and also drew an adult in the illustration.
"I was looking to try to draw something that depicted the fact that just because someone doesn't lay a hand on you, doesn't mean it doesn't hurt," Simon said. "I've had babysitters, multiple authority figures not realize how much their words have had an impact. I used all of the words that have been said to me that were very specific and very personal."
The image was one of many that Simon had sketched to cope with a difficult time she experienced in her life.
"I'm a long-time eating disorder survivor," Simon said. "I had to be admitted to a hospital, but I'm doing pretty well now and I found a force in art."
Simon's drawing was shared more than 300,000 times on Facebook.
"What happened was, somebody shared it and was claiming it as her own," Simon recalled. "I was irritated because it was my personal story [and] someone else took credit for it. I wasn't super mad because I didn't share it with the intent for it to go viral."
The piece drew mixed reactions from social media users.
"I think it either stirred up people's emotions based on what was done to them, or what they're doing wrong. For every five nice comments, there are two that are negative," she said.
In the future, Simon said she plans on incorporating her art into a therapeutic project that'll help teens.
---
- Advertisement -

Trending Now