---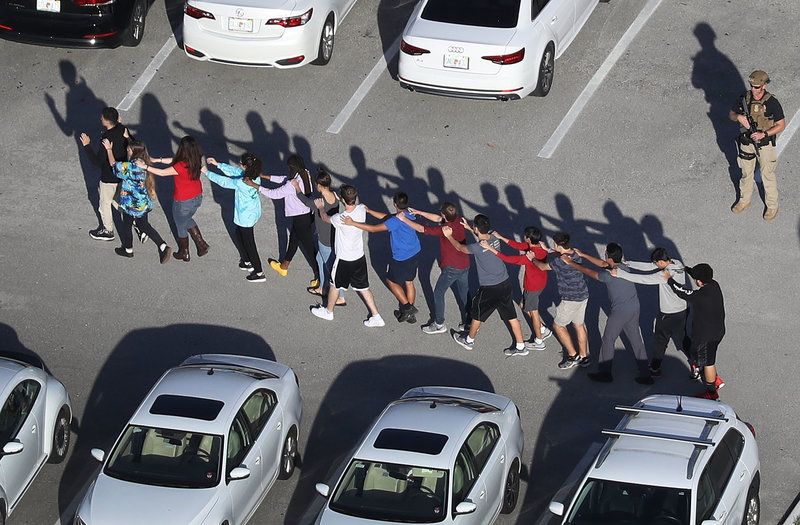 Attack on a Florida high school is the eighth shooting to have resulted in death or injury during the first seven weeks of the year
Just seven weeks into 2018, there have been eight shootings at US schools that have resulted in injury or death.
Seventeen people have been confirmed dead in the latest shooting in Parkland, Florida, on Valentine's Day.
Less than a month ago, a 15-year-old student opened fire at a high school in Kentucky, leaving two students dead and 18 injured. Other incidents have been grave, but on a smaller scale.
In early February, one student in Los Angeles was shot in the head, and another in the arm, when a gun concealed in a fellow student's backpack went off.
The congressman Bill Nelson, a Democrat of Florida, said on Wednesday afternoon: "Are we coming to expect these mass shootings to be routine? And then after every one we say 'enough is enough' and then it continues to happen?"
Congress has refused to tighten restrictions on gun ownership, even after 20 children and six educators were massacred in 2012 in Sandy Hook elementary school in Connecticut.
"We're lessening the threshold of how crazy someone needs to be to commit a mass shooting," Austin Eubanks, who survived the 1999 shooting at Columbine high school, told the Guardian last fall.
He was speaking in the wake of catastrophic Las Vegas shooting, where a depressed man took up position high up in a hotel, with a large arsenal of guns and ammunition, and sprayed bullets upon a music concert audience, killing 58 and injuring more than 800. Eubanks said he had watched an increasing pace of mass shootings across the US, in schools and elsewhere, with fear and anxiety.
The fifth anniversary of the Sandy Hook elementary school shooting last December passed in subdued fashion, with congressional Republicans refusing to pass new gun control laws and instead pushing for a law that would weaken gun restrictions nationwide and make it easier to carry a concealed weapon across state lines. Donald Trump won the White House campaigning on a promise to support the National Rifle Association (NRA), the influential gun rights group, and oppose any limits to Americans' right to own guns.
---
- Advertisement -

Trending Now
You may also like